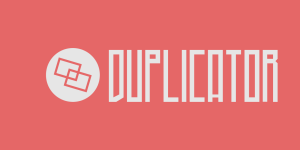 Duplicator pro is the best plugin for WordPress backups and migrations. It will make WordPress Migration Easy, Fast, Painless and Backups made super easy with scheduled backups and cloud backups. It comes with tons of features.
Multisite Support
Email Notifications
Backup Limits
Filter Data
Easy Plugin Updates
Custom Templates
Larger Package Support
Database File
Use the link below to visit the Duplicator Pro Store.
Duplicator Pro WordPress Backup and Move plugin is No.1 WordPress For Moving your WordPress Sites around.
Starts on: 15/07/2016
Ends on: 31/08/2016