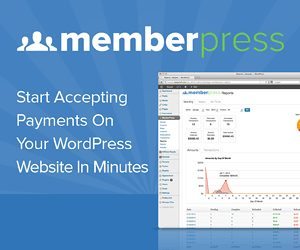 MemberPress is an easy to use WordPress Membership Plugin. This powerful Membership Software installs simply on your site and helps you instantly start charging for access.
MemberPress will give you the ability to confidently create, manage and track membership subscriptions and digital products. In addition to these powerful abilities, MemberPress will allow you to grant and revoke access to posts, pages, categories, tags, feeds, communities and digital files based on what products your users have purchased or subscribed to.
The links below will get you 20% off on each of these great WordPress plugins now through Monday. Coupon code should not be needed.
Grab your copy of MemberPress at Black

Friday

discounted rate now:
MemberPress Business Edition
MemberPress Developer Edition
Discount: 20%
Coupon Code: N/A
Click here to save 20% on MemberPress
Starts on:
Ends on: